About PCYC Lithgow Out of School Hours (OOSH) Care
Lithgow PCYC OOSH has access to a dedicated room and lots of outdoor space, including a thriving vegetable garden and worm farm.
Our OOSH programme is designed to grow with the children's changing interests and ideas. We also provide lots of opportunities for developing motor, social, language, emotional growth and cognitive skills through play.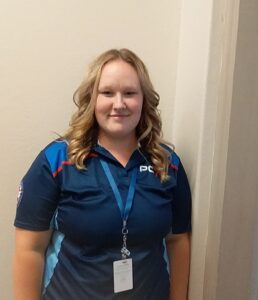 Chantelle Hull
OOSH Co‐ordinator
Chantelle has been working in early education since 2013 after completing a Cert lll in children's services. She started at PCYC as a children's activities officer, then moved into the Children's Activities coordinator position.
Chantelle says the best part of her day is seeing all the children arrive at After School Care with big smiles, ready to tell stories about their day. She is committed to valuing and developing every child's strengths, interests, skills and abilities to help them meet their full potential.
''I have always had an interest in early education because I wanted to be a part of an environment where children felt safe , happy, loved and had fun! I love the idea of having a career where I get to support children's needs and be a part of their journey to become independent and confident.''

Program Dates: 3rd – 17th July 2023
Time Open: 8:00am
Time Closed: 6:00pm
What to bring: Enclosed shoes, sun safe clothes, water bottle, hat, recess and lunch
PCYC OOSH is at the heart of the local community. Our experienced team of educators provide a safe and engaging space during every School Holiday period for your child to learn and grow through fun and enriching experiences. We focus on your child's interests and on developing their confidence, curiosity and resilience.PCYC OOSH centres comply with all national regulations and licensing requirements following  the National Quality Framework, and are Child Care Subsidy (CCS) approved.
Interested in a Career in Child Care?
View our vacancies at PCYC OOSH